I'm still enjoying fresh zucchini over here.  This dish turned out more like a crumble than a casserole, and thus I titled it such.  The crumb topping is also great for fruit crumbles or other savory combinations of vegetables and meat.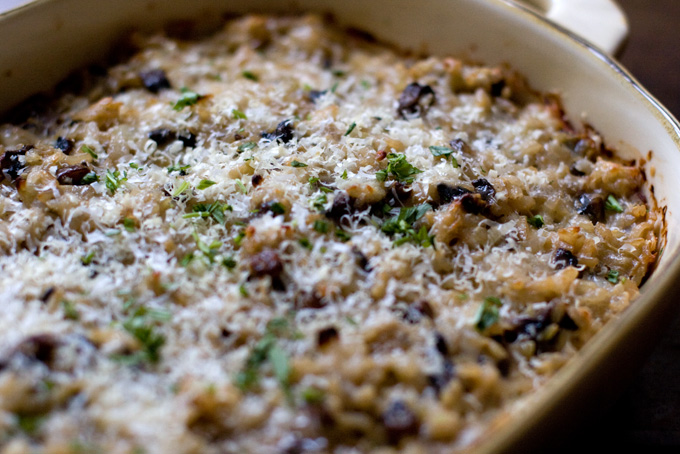 Zucchini & Mushroom Crumble
Makes 8-10 Servings
6 medium zucchinis, washed and chopped or julienned
3 c mushrooms, mixed variety, wiped clean and chopped thin
1 medium onion, diced
1 Tbsp dried thyme and parsley (more/less to taste)
Sea salt and fresh black pepper to taste
1 tsp coconut flour
1 Tbsp coconut oil
CRUMB TOPPING
1 1/2 c almond flour
1/2 c sliced almonds
2 Tbsp cold, unsalted raw butter
3/4 tsp sea salt
1/3 c raw Parmesan cheese, grated
1.)  PREPARING THE CRUMB TOPPING:  Combine the almond flour, butter, and sea salt in a food processor and pulse until it resembles bread crumbs (or by hand, cut the butter into the flour with your finger tips until it resembles bread crumbs).  With your fingers, work in sliced almonds until well combined with the butter crumbs.  Refrigerate the crumble, covered, until the filling is ready to be topped.
To Make Your Own Almond Flour:  Pulse raw almonds in a food processor until they are a fine, fluffy flour.  Tilt the machine back and forth, side to side, to disperse the nuts every few pulses.  Don't switch the machine to ON (continuous) or you'll quickly wind up with almond butter.  Sift out any larger pieces of nuts using a medium-mesh strainer.  Measure out 2 cups of almond flour.  Freeze the rest.
Altering this recipe for fruit crumbles:  Add about 2 tsp spoonable stevia, 1 tsp nutmeg, and 2 tsp cinnamon to the crumble and prepare the same way.  (ginger, clove, anise, may also be good spicing options)
2.)  In a large skillet, heat about a Tablespoon of coconut oil of Medium/Medium-High heat.  Add the onions and saute for about 5 minutes, until softened.  Add zucchini, thyme, parsley, salt and pepper.  Stir to combine.  Cover and reduce heat to low.  Simmer for about 12 minutes with lid on until zucchini is slightly softened.
3.)  Remove lid and stir in the chopped mushrooms to the pan.  Return heat to Medium-High and cook for about ten minutes, until the mushrooms have shrunk and have released their water.  Sprinkle in the 1 teaspoon of coconut flour and stir to thicken the mixture/absorb the excess liquid.
4.)  Pour the mushroom-zucchini mixture into a large glass casserole dish (I used a 9×13 inch).  Spread crumb mixture evenly over top.  Sprinkle the top with grated Parmesan and bake at 300 degrees F for about 20 minutes, or until crumb topping is nicely browned and cheese is melted.  **Keep an eye on it tho, as almond flour/almonds/nuts brown more quickly than white flour or oats.  That's why we're cooking it at a lower temperature, but still watch out so your crumble doesn't burn!  It's too good to waste!  :)** 
TIP:  You can prepare this dish a day ahead of time.  You'll need to bake it for about 15 minutes covered with foil first, and then 15-20 mins uncovered if taking it from the fridge.