Questions Answered: Maximize the Easter Basket
by Elise Schwartz | March 24, 2011 2:21 PM
Tammy posed what I think is a great question and topic on the Healing Cuisine facebook page[1]:

"What are everyone's ideas for Easter?  I grew up with the traditional candy basket!!  My kids have gotten that the last few years, but I really want to change it up without breaking their hearts.  Would love your ideas!  I know fruit is a good thing to add, but what about for the fun egg hunts?  What to put in each egg besides little trinkets?"  -  Tammy
And here I was looking for inspiration on what to write about in the Easter theme.  Well thank you Tammy!  I really think this will help a lot of Maximized Living families and keep our kids healthy!  So here is a list of my ideas.  If you have some of your own, maybe you've even done a Maximized Easter basket for your kids in the past, please share your ideas in the comments section.  We can all use the help! :)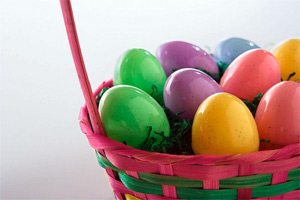 [2]
Food Ideas:

Lara Bars [3] (20% off thru 3/31/11!!!  Look for the ones with the lowest sugar: Tropical Fruit Tart, Peanut Butter Cookie, Apple Pie, Blueberry Muffin — 17-18g of sugar from dried fruit.  High, but a better option than candy!)
Dark chocolate covered almonds (They look like little chocolate eggs! Buy in bulk at your co-op.)
Make a double batch of "Cocoa-Nut" Bites[4]
My faaavvorite recipe that I've ever invented: Loaded Chocolate Protein Bars [5]
Dried berries[6] (maybe mix with the chocolate covered almonds?)
Kale chips[7]
Archer Farms organic fruit strips[8] (or find at Target)
Nutiva organic hempseed bars[9] (They're 50% off right now!)
Packet or two of Vega mix[10] (Vanilla Chai is my favorite and kids LOVE it!  Find the single packets at Whole Foods.)
Their very own jar of Coco-Hazel-Nut Spread[11] (Advanced Plan Nutella!!  OR layer with raw almond butter in a cute container!)
Packets of flavored Stevita stevia (orange[12], strawberry[13], cherry[14], lime[15], grape[16]…)
Their favorite homemade cookies[17], brownies[18], or cupcakes[19]
A stainless steel lunch box[20] and fill it with fresh snacks (sliced apples and almond butter, organic rice chips and homemade salsa, homemade applesauce, pita chips and hummus[21])
Stevita Stevia-dent natural gum (cinnamon[22] or mint[23])
Non-Food Ideas:
A new book (either for story telling[24] or one your child can read[25] themselves)
Coloring book with all-natural crayons[26]
A Klean Kanteen[27] in your child's favorite color
A new Easter-themed DVD[28]: It's the Easter Beagle, Charlie Brown; Winnie the Pooh: Springtime with Roo; Bug's Bunny Easter Funnies; The First Easter Rabbit; Here Comes Peter Cotton Tail
Homemade bubble mix in a fun bottle
All-natural playdough[29]
Natural bath toys[30] and an organic bar of soap[31]
Movie theater coupons/gift certificates
MiEssence[32] lotions or body care products
Jigsaw puzzle
All natural art supplies
Outdoor games (jump rope, a ball, bike helmet, natural sidewalk chalk, kite)
Packet or two of organic flower seeds to plant
A new board game or deck of cards
A mixed CD of your child's favorite songs or new songs
A new natural toothbrush[33] and fluoride-free toothpaste[34] (kids LOVE this natural lemon toothpaste from MiEssence)
Avoid Plastic Eggs, Opt for Real
And don't forget last year's How To post on Natural Easter Egg Dyeing[35].  I recommend using natural hard-boiled eggs vs. plastic eggs for your egg hunts.  Plastic eggs are made of plastic.  These are handled by our kids, hands then go in their mouths, and in many cases even the plastic eggs end up in their mouths.  Control what you can and keep the dangerous BPA plastic out of your kids and home, not to mention the risk of lead paint used to dye the plastic[36].  Get your family involved in Easter egg dying the day before.  My mom always had us go to our rooms after Easter morning church to change into play clothes then hang out while she hid the eggs throughout the house.  (We lived in Michigan…snowy Michigan.  You can do the same thing in your backyard!)  So if you're worried about "when will I hide the eggs, I don't want them to spoil!"..take a tip from my mom and put your kids away for a half hour while you get the hard-boiled eggs set out.  They'll find them within the hour and you can pop right back in the fridge when the festivities are finished.  ;)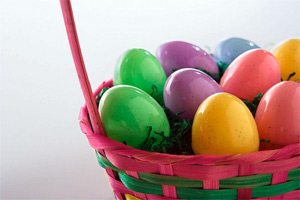 [37]
Any other tips and ideas out there?  Please share!!!  Happy Easter everyone!
Endnotes:
Healing Cuisine facebook page: https://www.facebook.com/healingcuisine
[Image]: http://www.projectsforpreschoolers.com/wp-content/uploads/2011/03/easter-basket.jpg
Lara Bars : http://www.larabar.com/
"Cocoa-Nut" Bites: http://www.healingcuisinebyelise.com/2011/03/cocoa-nut-bites.html
Loaded Chocolate Protein Bars : http://www.healingcuisinebyelise.com/2010/10/loaded-chocolate-protein-bars.html
Dried berries: http://www.nutsonline.com/organic/driedfruit/
Kale chips: http://www.healingcuisinebyelise.com/2011/01/kale-chips.html
Archer Farms organic fruit strips: http://www.amazon.com/Archer-Farms-Organic-Strawberry-Fruit/dp/B0027SIHQ2?ie=UTF8&tag=wwwhealingcui-20&link_code=btl&camp=213689&creative=392969
Nutiva organic hempseed bars: https://store.nutiva.com/hemp-bars/
Vega mix: http://myvega.com/products/whole-food-health-optimizer/features-benefits
Coco-Hazel-Nut Spread: http://www.healingcuisinebyelise.com/2010/10/chocolate-coco-hazel-nut-spread.html
orange: http://www.amazon.com/STEVITA-STICK-PK-ORANGE/dp/B000U7K9E0?ie=UTF8&tag=wwwhealingcui-20&link_code=btl&camp=213689&creative=392969
strawberry: http://www.amazon.com/Stevita-Singles-Strawberry-Flavored-Stevia/dp/B000N42A0G?ie=UTF8&tag=wwwhealingcui-20&link_code=btl&camp=213689&creative=392969
cherry: http://www.amazon.com/Stevita-Co-CHERRY-Singles-Flavored/dp/B000N47ZXS?ie=UTF8&tag=wwwhealingcui-20&link_code=btl&camp=213689&creative=392969
lime: http://www.amazon.com/Stevita-Co-Inc-LIME-Singles/dp/B000N448HE?ie=UTF8&tag=wwwhealingcui-20&link_code=btl&camp=213689&creative=392969
grape: http://www.amazon.com/Stevia-Drink-Spring-Powder-Stevita/dp/B0014ROZXG?ie=UTF8&tag=wwwhealingcui-20&link_code=btl&camp=213689&creative=392969
cookies: http://www.healingcuisinebyelise.com/2010/09/gluten-free-chocolate-chip-cookies.html
brownies: http://www.healingcuisinebyelise.com/2011/02/questions-answered-gooey-moist-brownies.html
cupcakes: http://www.healingcuisinebyelise.com/2011/01/strawberries-n-cream-bundt-cake.html
stainless steel lunch box: http://www.happytiffin.com/square-meal-stainless-steel-lunch-box.html
hummus: http://www.healingcuisinebyelise.com/2010/08/roasted-red-pepper-hummus.html
cinnamon: http://www.amazon.com/Stevita-Co-Inc-SteviaDent-Cinnamon/dp/B001QGKF2A?ie=UTF8&tag=wwwhealingcui-20&link_code=btl&camp=213689&creative=392969
mint: http://www.amazon.com/SteviaDent-Chewing-Gum-12-pieces/dp/B000Q92EPY?ie=UTF8&tag=wwwhealingcui-20&link_code=btl&camp=213689&creative=392969
for story telling: http://www.amazon.com/Where-Babys-Easter-Lift-Flap/dp/1416949240?ie=UTF8&tag=wwwhealingcui-20&link_code=btl&camp=213689&creative=392969
child can read: http://www.amazon.com/Home-Mr-Easter-Brooke-Allen/dp/1561635804?ie=UTF8&tag=wwwhealingcui-20&link_code=btl&camp=213689&creative=392969
all-natural crayons: http://www.amazon.com/Natural-Crayons-6-Color-Pack/dp/B00427P0O8?ie=UTF8&tag=wwwhealingcui-20&link_code=btl&camp=213689&creative=392969
Klean Kanteen: http://www.kleankanteen.com/products/kid/kid-kanteen.php
A new Easter-themed DVD: http://kidstvmovies.about.com/od/easter/tp/eastertop.htm
All-natural playdough: http://www.amazon.com/Natural-Modeling-Dough-Lemon-Strawberry/dp/B00427WJ7O?ie=UTF8&tag=wwwhealingcui-20&link_code=btl&camp=213689&creative=392969
Natural bath toys: http://www.amazon.com/green-sprouts-Stacking-Cup-Set/dp/B002KCNEDG?ie=UTF8&tag=wwwhealingcui-20&link_code=btl&camp=213689&creative=392969
organic bar of soap: http://www.amazon.com/Dr-Bronner-Organic-Eucalyptus-Soap/dp/B000HJXQ5U?ie=UTF8&tag=wwwhealingcui-20&link_code=btl&camp=213689&creative=392969
MiEssence: http://revolutionwellness.mionegroup.com/
toothbrush: http://www.thesoftlanding.com/product-p/pres-toothbrush.htm
fluoride-free toothpaste: http://revolutionwellness.mionegroup.com/en/product/13102
Natural Easter Egg Dyeing: http://www.healingcuisinebyelise.com/2010/04/how-to-natural-easter-egg-dyeing.html
lead paint used to dye the plastic: http://www.greenvilleonline.com/article/20080318/YOURUPSTATEHEALTH/80318011/Chemistry-professor-warns-that-plastic-Easter-eggs-might-have-toxic-lead-levels
[Image]: http://www.projectsforpreschoolers.com/wp-content/uploads/2011/03/easter-basket.jpg
Source URL: http://healingcuisinebyelise.com/2011/03/questions-answered-maximize-the-easter-basket.html
---